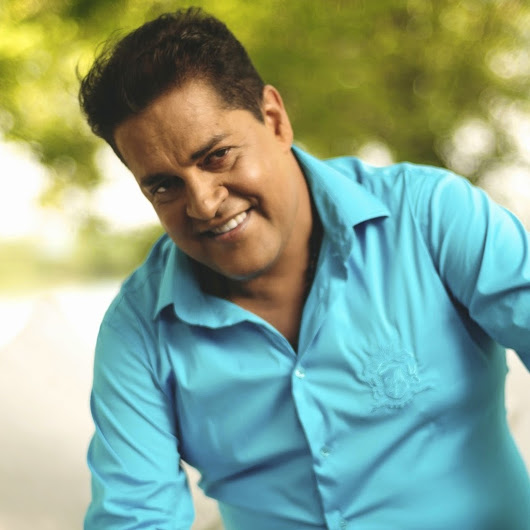 Nelo Carvalho has a career full of successes. First with the Trio "Raizes", then with the "Duo Ouro Negro" and solo for many years. His various albums and line-up of shows include semba, coladera, morna, bossa nova, among other genres.
Nelo Carvalho was born in Luanda in 1959 and started in music at the age of 15.
His career was full of successes, first with the Trio "Raízes" and from 1981, with the integration in the show of the "Duo Ouro Negro", his career took a turn, allowing him to travel the world, through Europe, Africa and Americas. After two decades in which he adds successes, always integrated in several bands, from 1992 onwards he dedicates himself to his solo career.
After having recorded his first solo album and several incursions into various styles of music, in 2013, Nelo Carvalho decides to look for his basic references and get the rhythms, voices and sounds that most identify with his past.
From this stage, Nelo Carvalho has three albums to offer to the public, where friends, tastes, cultures, sounds intertwine, further enriching her trajectory, finding paths ("Encontros" | 2013), rediscovering affections, complicity and availability in other participants that they brought hugs ("Reencontros" | 2015) and opened the doors to other "trips", in a foray into the Hispanic world, coexisting with other voices, with Castilian singing ("Las Voces Y Los Cantos" | 2017), ending the Trilogy.
The singer excels in the difference and is an artist without haste! With the end of the trilogy, he conceived a very special concert, designed to please various types of audience, bringing new songs and readings in a creative journey between songs from Angola, Cape Verde, Brazil, Cuba, Dominican Republic, Guadeloupe and Spain, with rhythms such as Morna, Semba, Zouk, Bossa Nova, Coladera, Fusão and Jazz, intertwining sounds and phonies, in a marriage between Africa, the Americas and Europe.
His show is a tribute to sonorities, boldness and forms.
Nelo Carvalho will soon edit his most recent album of originals.