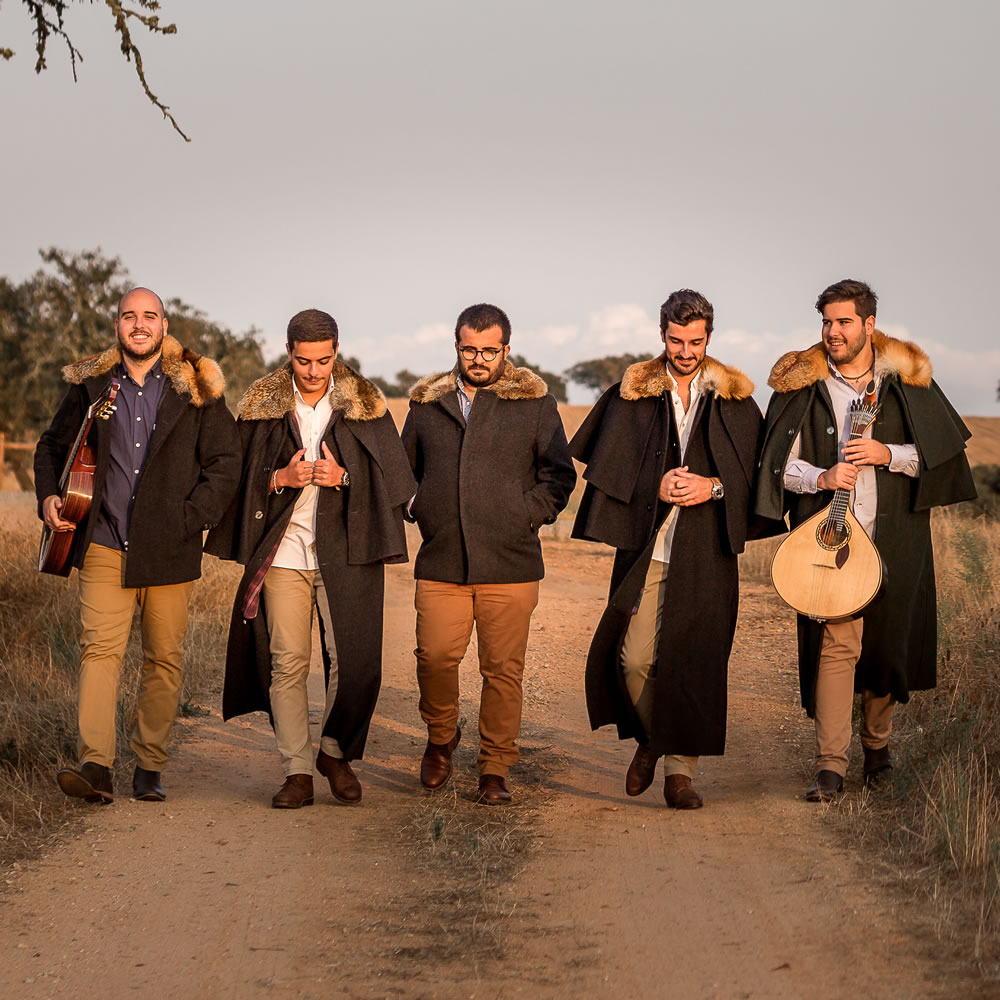 Cantadores do Alentejo are composed of five young guys, who have in common the fact that they were born in Alentejo and that music has been part of their life since childhood. "We'll sing 'modas' our way" is the promise they make.
"Atrevido" is the first album of originals by the Banda Cantadores do Alentejo.
Jorge São Pedro, José Diogo Bento, Duarte Farias and the brothers Telmo and Gonçalo Narciso, are the collective of musicians that compose it.
Respecting the roots and the tradition, the five dared to record 10 original modas, an unusual fact in the Cante, all composed by Gonçalo Narciso, who shares the authorship of the theme "A Janela" with his brother Telmo Narciso.
From this record is part of the only theme adapted, where they pay a heartfelt tribute to Amália Rodrigues, recreating together with Katia Guerreiro, "Tive um coração perdi-o".
Besides the fado singer, they also invited Buba Espinho and Pedro Mestre to sing, together, the songs "A viagem do Passarinho" and "Alentejo os teus trigais".
The album was produced by Carlos Leitão, who accompanies with classical guitar, and also includes the bass player Carlos Menezes and percussionist Rui Gonçalves.
The Cantadores do Alentejo were officially born in the RTP 1 contest, "Got Talent" 2020, a program where they reached the semi-final.
Until then, they used to get together in informal gatherings and it was through their friend and musician Jorge Benvinda that they began to see the possibility of turning their hobby into a more serious activity.
The contest for which they were entered, without knowing it, and the respective public recognition gave them the courage to dare to record an album, which is now arriving at a good time.
With the natural daring of their age, they have in common the fact that they were born in Alentejo and that music has been part of their lives since childhood. They all started singing at an early age and have been calling Cante por tu for as long as they can remember.
Although they have already had several musical experiences and some are still part of other projects, the friendship that unites them, the passion for Cante, and the will to innovate, leads them to say that:
"We will sing Modas in our own way and show that Cante can be interesting for all ages".
Cante is definitely in good hands!
Cante (or Cante Alentejano) is a Portuguese music genre based on vocal music without instrumentation from the Alentejo region. It was inscribed in 2014 in UNESCO's Representative List of the Intangible Cultural Heritage of Humanity, one of two Portuguese music traditions, the other being Fado. Its origins come from a similar popular music genre created in the region of Minde by campinos. It is said that the habit of singing without instruments was common in bullherding as a means to coordinate efforts among the campinos.
Associated with this traditional singing in Alentejo is the term "moda" (as in "fashion", but rather meaning "our very special way") to identify the typical vocal genre that shapes Cante Alentejano.